Cast: Salman Khan, Kajol, Dharmendra, Arbaaz Khan and Anjala Zaveri
Director: Sohail Khan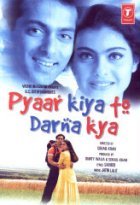 From the title itself- a direct lift from the legendary song in Mughal-e-Azam it's clear that nothing about this film is original. A rehash of an old tale where a rich, protected girl from a traditional Khandaan falls in love without filial approval, Pyaar Kiya to Darna Kya abounds with clichés. Muskan (Kajol ) is the niece of a generally genial Chacha Thakur (Dharmendra). Arrogance may have bypassed the father, but his son Vishal (Arbbaz Khan) oozes high-handedness. As a result, he rules Muskan's life with an iron rod. But since he also loves her more than life itself, he finds it hard to refuse her permission to go study in a city college- specially on Raksha Bandhan.
And on the first day of college itself, she meets the man of her dreams: Suraj (Salman Khan), who is also, rather conveniently, the sole heir of a millionaire. But before the flush of first love has even faded, Vishal gets into a fight with Suraj. And that's the end of their romantic interlude. In a storm of fury, he whisks Muskan away to the family home. The rest of the film is about how Suraj weasels his way into Chacha Thakur's heart and how Vishal's hatred for Suraj is defeated by Muskan's love for her beau. A khan brother's production, Salman's great talent-his tanned torso- has been showcased extremely well in this film as he almost never wears a shirt. Kamaal Khan's song 'O,O Janne Jaan' is foot-tapping and if the rest of the music is as good, the film should do well. The X factor however is Sohail. His directorial debut, Auzaar was a disaster. Let's hope this time round, he's learnt a few lessons.
Indian Express