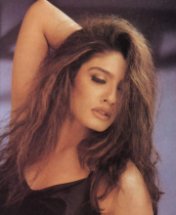 If Freud was right that the ability to love and work is the true measure of mental health, much can be learned about Raveena Tandon, by looking at her professional and romantic lives. Never mind how fast they're skipping along. Clearly she's won half the battle. Despite the disappointing box-office receipts for many a film in her early career, she's a proved actress willing to work hard. As for the love part, Raveena's clearly for it. It's just that like the rest of us, she's still trying to get it right. There have been conflicting reports in the media about her relationship with Akshay Kumar. One is that the couple have made a commitment; the other is that they're drifting apart. The intensely private Raveena isn't about to feed either rumour. "The relationship has such a precious quality to me," she says, "talking about it would be Iike rubbing a cat the wrong way." Curled up in a chair on the sets of Ziddi, wearing a snazzy outfit for a sizzling song sequence, she tried to move the subject of marriage to things other than that. But she can't help bringing the conversation back to a personal level. Over to her private life but be content with whatever she reveals because that's as much as she'll expose. The world may know intimate details about her life, she seems to be saying, but it will never see beyond the peek she herself allows into it.

Q: How do you rate the year that was?
A: Excellent! I reaped a hit, Khiladiyon Ka Khiladi. Wow! The sweet smell of success is so heady. It'll keep me intoxicated for a while.

Q : Why do you get caught up in controversies?
A : I don't have a knack of getting into controversies as such. But as luck would have it, I've been embroiled in one too many for my liking. Thank god, the skies have cleared now, no more polemics to be handled.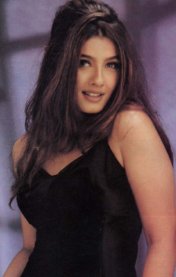 Q : How much importance do you give to money in your life?
A : Money, money, money, its a rich man's world. Money makes the world go round.
Q : What could be your extravagance?
A : Cars. I'd love to possess as many as possible. It's my dream to own a Ferrari one day. I may or may not be able to afford it. Well, looking at the pathetic state of Indian roads, I'm better off without it. (she laughs). Case of sour grapes, that's what you think, isn't it? Anyway, presently I'm very happy with my Mazda sports convertible.
Q : What is your most treasured possession?
A : Friends. What would life be without them. I'm very close to my childhood friends. The girls I've grown up with. I regularly keep in touch with them and I know that they are the true friends. Friends that I can count upon in times of need.
Q : How close are you to your family?
A : We're a close knit family so there is a lot of interdependence on each other. My brother and myself are like Siamese twins, very closeto each other. Although we are not born in the same year, we share the same date of birth. I would say my brother is my best friend, very supportive and I derive a lot of strength from him.
Q : What kind of music turns you on?
A : Ravi Shankar is an all-time favourite. But I have an ear for both Indian and Western music.
Q : The men you're in awe of?
A : This very duo, yaar! I was absolutely petrified of Nana before I met him on the sets of Zamaana Deewaana. But now I find him to be so nice and congenial. Same is true of Naseer. I've always been in awe of him because he's an actor par excellence. I consider it an honour to be working with him.
Tinsel Town....
---
Copyrightę1998 Chawla Arts and Entertainment Inc. All rights reserved.